Rodger Willis Duncan
Searcy, AR, 1938 - 2022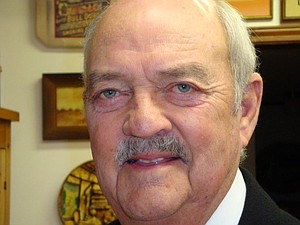 Rodger Willis Duncan, a retired auto dealer, cattle farmer, and avid golfer, died Sept. 1, 2022, in his Searcy home. He was 83.
Born Sept. 12, 1938 to Vernon W. and Wyndelene Holmes Duncan, he was the oldest of three children and the only one born at home, inside a rock house built on the hillside in 1918. Holmes Road was named for his grandparents.
Rodger was a graduate of Searcy High School, where he played on the football team, and attended the University of Arkansas, where he pledged the Pi Kappa Alpha fraternity. His college education was interrupted by the crisis at Central High School, when he was called up as a National Guardsman by the governor to report to Little Rock.
All his adult life, he worked alongside his siblings and father at Duncan Chrysler-Plymouth-Jeep in Searcy, which his father founded as V.W. Duncan Used Cars. The dealership thrived and expanded to include new and used vehicles at its location on East Race Avenue, until the family looked to retirement and sold the business in 2005.
In retirement, Rodger doubled down on golf, and played as many as six days a week. He was an early member of the Searcy Country Club, having received a gift membership in 1964 as a non-golfer. He caught on to the sport quickly. He served as the president of the Searcy Country Club in 1995 and played in every tournament he could until his health failed. He won the Club Championship in 2007 at age 69.
As a hobby, Rodger managed a small herd of cattle, something his father used to do. He enjoyed mornings on the farm, feeding cows, cutting brush and maintaining the pastureland that was within view of his childhood home.
He made friends of all ages, and was known for his easygoing sociability. A devoted sports fan, he was a parent/coach who helped get Searcy's first Pee-Wee football league off the ground.
At social events with live music, he was popular on the dance floor, having learned dance moves as a young man and perfecting them over time.
He adored his children and grandchildren and took his wife out on a date every Saturday night.
Rodger was preceded in death by his mother and father, his younger brother, Montie Wayne Duncan; a stepson, Michael Paul Smith; and a nephew, Lance Heath Duncan.
He is survived by his wife of 54 years, Barbara Smith Duncan; his sister, Barbara Duncan Wilson (Jim); his sister-in-law, Marla Duncan; his son, Will Duncan (Cindy); his daughter, Lana Duncan Clark; his stepdaughter, Valerie Smith Canepa; a granddaughter, Libby Clark; a great-granddaughter, Presley Clark; grandsons, Michael Duncan and Andrew Duncan; nieces, Shay Wilson Raycher (Mike), Nicole Wilson Slough (T.J.), and many beloved cousins, far-flung and local.
His comfort during a long illness was made possible by his devoted caregivers: Phyllis Kurck, Nanci Morrison, April Kurck, Faye Johnson, and his daughter, Lana Duncan Clark. He loved them back.
He was a Mason, a Shriner, and a member of the Benevolent and Protective Order of Elks.
Burial will be private with Bro. Bill Lyons officiating. There will be a visitation from 5 to 7 p.m. Thursday, Sept. 8, at Roller-Daniel Funeral Home in Searcy, and there is a photo tribute online on the Roller-Daniel website. In lieu of flowers, the family suggests a donation to a favorite charity. Written memories about your friendship with Rodger are especially treasured, and you can post them online or send them to the family through the funeral home at: www.rollerfuneralhomes.com.
Published September 4, 2022
OBITUARY SUBMITTED BY:
Roller-Daniel Funeral Home
411 E. Race Avenue, P.O. Box 97, Searcy, AR
Phone: 501-268-3546
http://rollerfuneralhomes.com