Thomas Earl Tidwell, Sr.
Pine Bluff, AR, 1926 - 2022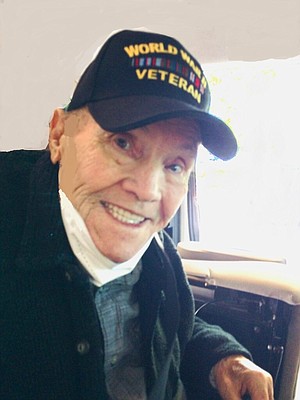 Thomas Earl Tidwell, Sr., 96, of Pine Bluff, passed away on Friday, September 2, 2022, in Greenbrier, Ark. He was born April 28, 1926, in Pine Bluff to Joe Earl and Rosa Bell Cook Tidwell. He served in the United States Army during World War II. During his service, he fought in combat in Europe under Patton's Army, and when the war was over there, he was employed as a civilian worker in construction on the island of Guam. After returning to Pine Bluff, he re-enlisted in the Army again, and went to Korea, stationed close to the 38th Parallel in the infantry guard duty. During this time, there were scouts who were to pick Army personnel who had been in combat to go to Tokyo as Honor Guard for General Douglas McArthur. He was selected and sent to Tokyo and was there until his discharge in late 1949. When he returned to Pine Bluff, he was self-employed. Later, he worked at jobs in Detroit, Mich., for approximately 4 years, as a machinist and learning tool and die work. He started his welding shop, T.E. Tidwell Welding Service and Machine Shop, after returning from Michigan.
He married the former Sunbeam (Sunny) Raymick on February 22, 1950, and enjoyed fly fishing, gardening and greenhouse work with her throughout their marriage. He also enjoyed working with his tractor or bulldozer and cleaning up the place, and always had it "looking like a park." He was an avid football fan, and especially enjoyed watching the Arkansas Razorbacks. When he wasn't watching football, he often could be found watching an old Western movie, particularly if it starred John Wayne.
He was a member of Sulphur Springs Baptist Church.
He was preceded in death by his parents; his wife; two grandsons, Jacob Allen McGarity and Ricky Lee Partin; his sisters, Helen Westerfield, Rosa Mae Weatherford, Hazel Ply, and an infant sister; his brothers, Charlie "Bud" Tidwell, Sam Tidwell, and Leon Tidwell.
Survivors include his son, Thomas Earl Tidwell, Jr. of Pine Bluff; three daughters, Gloria Tidwell of Conway, Elaine Holmes of Raleigh, N.C., and Marilyn Partin of Oark, Ark.; one sister, Linda Kelley of Pine Bluff; one brother, Henry Harold "Hub" Tidwell of Bakersfield, Calif.; 10 grandchildren; 20 great-grandchildren; 3 great-great-grandchildren; and a number of nieces, nephews, and other relatives.
Graveside services will be held at 2 p.m. Wednesday, September 7, 2022, at Ramick Cemetery with Bro. Mike Holcomb officiating. Services are entrusted to the care of Ralph Robinson and Son Funeral Directors.
In lieu of flowers, memorial contributions may be made to St. Jude Children's Research Hospital, in honor of the love he had for children.
Published September 6, 2022
OBITUARY SUBMITTED BY:
Ralph Robinson & Son
807 South Cherry Street, P.O. Box 5254, Pine Bluff, AR
Phone: 870-534-3131