Ewilda May Matchett
of Little Rock, AR, 1928 - 2022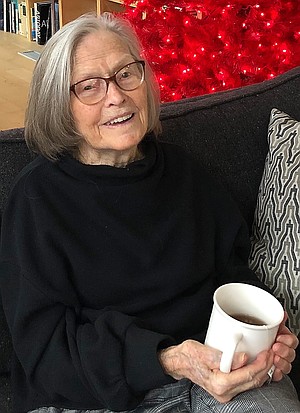 EWILDA MAY SMITH MATCHETT died September 10, 2022. She was 93 years old.
She was born November 23, 1928, in Denmark, Ark. She was married to Dwight Gene Matchett for 59 years, widowed in 2008. Her parents were George Diego Smith and Beatrice Mae Ransom Smith.
She is survived by her son, Bill Matchett (Nellie) of Conway; daughters, Jo Matchett and Jean Matchett (Kim Hillis) of Little Rock. Her granddaughters are: Christie Ann Matchett Hess (David), Amy Henderson (Brian) and Jessie Beal (Ryan Androff); great-grandchildren are: Jacklyn Hess Brinkley (Dillon), Jackson Reno and Jordyn Hess. She has one great-great-grandchild, Christine Mae Brinkley. She is survived by her sister, Dorlene Mildred Falwell of Bradford, Ark. Her deceased siblings include: Bernard Chester Smith, Md., Hattie Alma Guerra, Alice Margene Smith, Dorland Lester Smith. She is also remembered by nephews, nieces, cousins, and their families as "Aunt Wee."
Ewilda grew up in the small rural communities of Denmark and Bradford Ark. Her life saw the Great Depression, WWII, the Korean War, the Vietnam war, 9/11, and the Covid-19 pandemic. She grew up listening to the radio, saw the revolution of TV as a young adult and in later years learned to use a personal computer and the internet. In the last decade her physical abilities were limited but she learned to connect with her iPhone and iPad. She played the difficult Churchill Solitaire on her iPad and printed the daily crossword from her iPad, often able to complete it through Saturday!
Ewilda began college at Ouachita Baptist College in 1944 at the age of 16. Her college education was interrupted by an emergency need to teach in the local school in Bradford, where her father was the principal. She earned a BSE from Arkansas State Teachers College. She leaves many memories and friends from her years teaching in Arkansas public schools at Bradford, Damascus, Mayflower, Vilonia, and North Little Rock Oak Grove. Her teaching career centers around her years at Oak Grove High School, where she is remembered by many staff and students. Her children loved her involvement in activities such as the yearbook, beauty pageants, basketball games and plays.
Ewilda met Dwight Matchett in college, and they married in 1949. Her profession of teaching helped Dwight purchase his retail business, One Stop Sporting Goods, which they operated for over 50 years. Ewilda and Dwight, like so many Arkansans, loved the panhandle of Florida. They spent many summer vacations with family there. In later years they would "snowbird" for the winter months making many precious friends from Canada, the northern US, and Florida, especially Debbie and Melanie McCormick who became part of our family.
She was an artist. She played the piano, mostly self-taught. She ran 10k races in her 60s, and many times placed in her age category. She and Dwight loved to travel, fish and dance. She grew an amazing large garden in the years after Dwight died. It was difficult for her to lose the physical ability to do the things she loved, but Ewilda lived a good life.
She loved and was dearly loved. She leaves us with hearts full memories and "Ewilda adages." We are horribly saddened, but as Ewilda would conclude her morning phone calls to family, "Make it a good day, you don't get to do it over."
The family wishes to thank the staff at Foxridge in Chenal. Foxridge was her home since 2019 after shoulder and hip fractures limited her physically. Conway Regional Medical Center, St. Vincent's Infirmary, and respective physicians and staff were always generous and caring -– you do make a difference; special appreciation to her Dr. Susanna Shermer and Dr. Tena Murphy. We also thank St. Vincent's Hospice staff and Dr. Mikeal Love for care in her last days.
Graveside service will be at 10:30 a.m. on Tuesday September 13, 2022, at Crestlawn Memorial Cemetery.
Published September 12, 2022