Loy Earl Boyd
Springdale, AR, 1925 - 2022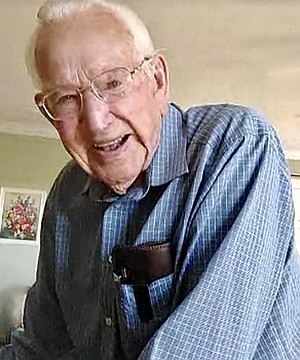 Loy Earl "Pa" Boyd, age 97, of Springdale, Ark., went to be with the Lord on September 19, 2022. He was born in Wesley, Ark., on September 3, 1925, to parents Rev. William Henry Boyd and Lula (Ball) Boyd of Japton (Drakes Creek), Ark., where he grew up. In school there, he excelled prior to his drafting to the US Army WWII Signal Core. In 1943, Pa was medically discharged with full honors from the US Army and returned home to Arkansas in
1944. Surrounded by family, he met his future wife, Alma Watkins, of 75 years through mutual acquaintances in 1947. With his new bride by his side, they begin their lives together by relocating to Pateros, Wash., where he further pursued his academic career by attending Washington States University with an emphasis in agricultural business. He simultaneously worked on an apple ranch while completing his educational goals to support his growing family.
Graduating with honors in 1954, he moved his wife and three children to Fullerton, Calif., to pursue his career. Employed by Norton Simon Enterprises, Pa supported his family by this means for 18 years. Meeting many friends along the way, Pa and family were an important contribution to the Fullerton church. In 1972, Pa utilized his expertise by relocating his family to Springdale, Ark., where he started his agricultural farm from the ground up. Independently built, owned, and operated, Pa worked under his own accord in Springdale until his passing only minorly changing his focus from agriculture to real estate in his final years.
Active in Faith Regular Baptist Church for over 30years Pa and family demonstrated their Christian faith in their daily lives. In 2002, the Lord led him to join Oak Grove Baptist Church, where he continued his Christian service as a contributing member to date.
He is survived by his wife, Alma (Watkins) Boyd; daughter, Earlene Howard; and daughter-in-law, Julie Boyd of Springdale, Ark.; grandchildren, Matthew Boyd of Dayton, Ohio, Sarah Boyd of Springdale, Ark., Michael Boyd of Bellflower, Calif., and Kelly Jones of Temple, Texas.
He is preceded in death by his sons, Garry Boyd, Boby "Bob" Boyd; son-in-law, Jerry Howard; and granddaughter, Debbie Boyd.
Funeral services held on Friday, September 23, 2022 at 10 a.m., Oak Grove Baptist Church of Springdale, Ark., with Bro. Guy Durkee officiating. Burial to follow at Elm Springs Cemetery, Elm Springs, Ark.
Published September 25, 2022
OBITUARY SUBMITTED BY:
Heritage Funeral Home
1591 S. 48th Street, Springdale, AR
Phone: 479-751-2444
http://www.heritageofnwa.com