Peter A. Govia
Philadelphia, PA, 1972 - 2023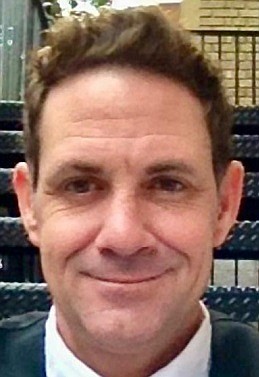 Peter Alexander Govia, May 12, 1972-March 13, 2023.
God, grant me the serenity to accept the things I cannot change,
courage to change the things I can,
and wisdom to know the difference.
Peter said this prayer at the end of every meeting he attended and, no doubt, multiple times a day as he took life minute-by-minute, moment-by-moment, until his good days were filled with hard work, meaningful conversations with his loved ones, and helping others.
Those grieving Peter are grieving him in all of his complexity as we memorialize a man who had the courage and the resilience to get out of bed every day, put one foot in front of the other, and pray that that day he would bring some good into the world and, perhaps, find a bit of joy for himself in doing so.
And he often succeeded, because Peter found and gave joy simply because he never stopped marveling at the world. While walking through the streets of Philadelphia in early Spring one day, he noticed the season's first flowers were beginning to bloom. Instead of simply noting it and continuing to work, he stopped and took a picture, so he could text it to his mother with the message, "Wanted to give you some flowers today" for no other reason than to share the happiness he felt with someone he loved.
When it came to his friends and family, Peter's one wish for everyone was happiness.
When he was a child, happiness meant laughter, so he was the kid who would crack jokes in class or do anything on a dare. He would get on a stage and serenade a nun, or give a jaw-dropping performance as Huck Finn, a character very much like Peter himself.
As a man, he realized there was more to it. To be happy, in his mind, was to love and be loved, and he took this very seriously.
For some, a day wouldn't go by without a call or text from Peter expressing his love. He also had an aversion to heart emojis, insisting that everyone type out "I love you" in return because he felt the words had a such profound power they shouldn't be reduced to a cartoon.
Peter practiced love and compassion so often and for so long that he had an uncanny ability to hold someone close without even touching them. From miles away, he brought solace to his loved ones when they needed it most. He called every day to check in and see if they needed to talk. He listened intently, never judged, and always knew exactly what to say.
Peter's empathy and concern for others made him a good man. His ability to translate these qualities into words and actions that affected pretty much everyone he met made him a great man. The fact that he did this while struggling with his own pain makes Peter one of the best men I have ever known.
He is survived by his mother, Katherine Hayden, and stepfather, John Houle; his sister, Laura Govia; his brother, Anthony Govia and sister-in-law Dede Govia; his stepsister, Kristin Houle Cuellar, and brother-in-law Fidel Cuellar; his stepbrother, Casey Houle and sister-in-law Amanda Houle; his nieces, Madeleine Govia and Avery Keith; and his nephews, Nelson Govia, Graham Govia, Brooks Houle, and Reece Houle. He was preceded in death by his grandparents Lauraetta and Ray Edgar.
In lieu of flowers, donations may be made to Arkansas Hunger Relief Alliance at arhungeralliance.org and/or Food Bag Relief Program at trinityphiladelphia.org.
A family gathering to celebrate Peter's life took place at Slater's Funeral Home in Philadelphia, Pa., on March 15, 2023. His funeral service was held at St. Patrick's Catholic Church in Philadelphia, Pa., on March 16, 2023.
Those who would like to make a tribute to Peter are welcomed to do so on legacy.com.
Published March 22, 2023
OBITUARY SUBMITTED BY:
Memoriams.com
391 Inverness Parkway, Suite 300-B, Englewood, CO
E-mail: helpdesk@memoriams.com
Phone: 877-705-4995