Second in a series. Click here to read part one.
On June 27, 2013, the Arkansas Supreme Court handed down welcome news to a certain group of class-action law firms.
The state's highest court unanimously reversed and remanded a decision from Washington County Circuit Court in a lawsuit involving Internet privacy against the TV Guide company.
The ruling in Roller v. TV Guide Online Holdings LLC (CV-12-306) forced the media company back into a legal fight from which it had been dismissed a year earlier.
It was a win for plaintiffs led by Sharon Roller, who claimed that TV Guide used "flash cookies" technology to wrongly gather information about its website visitors. The justices' decision also boosted the Roller plaintiffs' lawyers, who generally get paid only when they win or settle their cases.
Without admitting wrongdoing, TV Guide settled a year later.
Among the terms, the company agreed to pay $250,000 in attorney fees and expenses to the Roller lawyers, according to court records.
What the public couldn't know without checking campaign-finance reports is that three of the Roller side's law firms had contributed almost $87,000 to the campaigns of five of seven Arkansas Supreme Court justices who decided the appeal.
Justice Karen Baker wrote the 7-0 Roller v. TV Guide Supreme Court opinion.
In 2010, Baker's campaign had accepted $25,000 from two law firms that represented plaintiffs in the Roller case: Keil & Goodson of Texarkana and Nix Patterson & Roach of Daingerfield, Texas, according to campaign finance-disclosure reports.
Four other justices had reported a total of $61,750 in campaign money from Keil & Goodson, Nix Patterson or a third plaintiffs' firm, Crowley Norman of Houston, Texas.
Those justices were: Paul Danielson ($23,500 in 2006 and 2008), Josephine Hart ($18,000 in 2012), the late Chief Justice Jim Hannah ($17,250 in 2004 and 2008) and retired Justice Donald Corbin ($3,000 in 2006).
In Arkansas, a judge "shall disqualify himself or herself in any proceeding in which the judge's impartiality might reasonably be questioned," according to the state Code of Judicial Conduct.
Until 2015, Arkansas election laws prohibited any individual from contributing more than $2,000 per candidate per election. The limit rose to $2,700 last year.
The aim of the limit is to prevent a donor from having too much financial influence over a candidate or elected official, says Graham Sloan, director of the Arkansas Ethics Commission.
State law doesn't prohibit a donor's business associates, family members and others from contributing to the same candidate, which can total tens of thousands of dollars.
Donations in the tens of thousands may not seem significant in a governor's race or a U.S. Senate campaign where a winning candidate often raises millions.
But in contested Arkansas Supreme Court races since 2004, the winners have raised an average of about $160,000 each, records show.
Baker and Danielson told the Arkansas Democrat-Gazette that they didn't consider disqualifying themselves from the Roller v. TV Guide case because they follow the state judicial ethics code's instructions to remain unaware, "as much as possible," of who donates to their campaigns and how much.
"If I had identified an issue calling for my recusal, I would have recused," Baker wrote in an emailed response to the newspaper's questions.
She intentionally does not learn who her campaign donors are, she said. Danielson and Corbin said they followed the same practice. Hart did not respond to the newspaper's questions.
Danielson says he worked hard to remain unaware of his campaign donors and their gifts, and had no idea about contributions from those firms or anyone else.
He also said it's not fair to compare campaign contributions from the mid-2000s with those in more recent years.
"It was not common knowledge" a decade ago, Danielson said, that class-action law firms that have worked together on cases in Arkansas were making donations as a group to state Supreme Court candidates.
"I don't even know how much I raised. And I didn't honestly care, as long as I had enough money to get cards and signs, and get some TV time at the end," Danielson said.
Corbin said, "I didn't know anybody ever gave my campaign $3,000. My [campaign] committee never let me know who was making contributions. It's better that way."
National judicial ethics experts aren't convinced that a candidate's promise of purposeful ignorance regarding campaign contributions is enough to protect against improper influence, or the appearance of improper influence, in court decisions.
"The problem with that is campaign-finance records are public records," said Billy Corriher, who researches judicial ethics in all 50 states for the Center for American Progress, a Washington, D.C., policy institute.
"The public will know whether the judges actually do accept the money. And if you're really only looking at a handful of law firms, the relative size of those contributions make it hard to believe those judges don't know where the money is coming from."
Six law firms that specialize in class-action cases are among the biggest donors to Arkansas Supreme Court justices' campaigns and have come out on the winning sides in 12 of 17 state high court opinions since 2004, according to state court records reviewed by the Democrat-Gazette.
Those firms have won at least eight cases before the Supreme Court without any losses since mid-2008, a search of the state's online court record system, CourtConnect, shows.
One of the firms is Keil & Goodson in Texarkana. The other five are from outside the state: Nix Patterson; Crowley Norman; Kessler Topaz Meltzer & Check of suburban Philadelphia; attorneys Reggie Whitten and Michael Burrage of Oklahoma, affiliated with several firms over the past dozen years; and attorney Jason Roselius of Oklahoma, also with multiple law firms, according to case records.
Lawyers with the firms did not respond to repeated calls and emails asking for interviews.
Since 2004, the six law firms have donated an estimated $452,000 -- more than any other group -- to 11 Arkansas Supreme Court candidates, according to campaign contribution records.
The firms, their lawyers and the lawyers' family members have contributed about 84 percent of that money since 2009, including an estimated $296,000 to the campaigns of all six elected justices currently on the state Supreme Court, records show.
One of the state's most high-profile class-action lawyers, John Goodson of Keil & Goodson, married state Supreme Court Justice Courtney Henry in November 2011, less than a year after she was sworn in on the high court.
Courtney Goodson recused from the Roller v. TV Guide case and other cases involving her husband's firm, court records show. The Arkansas Code of Judicial Conduct requires judges to disqualify themselves in cases involving their spouses and other close family members.
Courtney Goodson is running for Supreme Court chief justice this year. Her opponent is Circuit Judge Dan Kemp of Mountain View.
'Actual cash value'
The most recent high-court victory for Keil & Goodson and its co-counsels came Dec. 10, 2015.
Shelter Mutual Insurance v. Goodner (CV-15-111) involved claim payments in a type of property insurance known as "actual cash value."
John Goodson and his partner Matt Keil asked a judge in Miller County Circuit Court in August 2014 to declare that Shelter Mutual violated Arkansas law when the company depreciated labor costs in paying "actual cash value" types of claims
Lawyers for the insurance company argued that Arkansas had no law regarding depreciation of labor in those insurance policies.
Keil & Goodson was later joined by three more firms that are big donors to Arkansas Supreme Court races: Kessler Topaz, Jason Roselius and Crowley Norman, court records show.
On Nov. 21, 2014, Miller County Circuit Judge Brent Haltom ruled in favor of the Texarkana firm Keil & Goodson and its co-counsels, finding that it's illegal in Arkansas to depreciate labor in "actual cash value" policies.
That was a bigger win for the class-action lawyers than it might have appeared.
Those law firms and others had been involved since at least 2013 in about 20 class-action lawsuits against insurance companies in state and federal courts over the issue of depreciating labor costs in "actual cash value" policies, court records show.
The state-law question was important. Potentially millions of dollars in claims reimbursements and attorneys' fees were at stake.
In December 2014, Shelter appealed Haltom's circuit court ruling to the Arkansas Supreme Court. The high court's decision on the appeal would affect the outcomes in the other cases, legal experts say.
If the six elected high court justices had thought to compare the names of the law firms in the case against their own campaign contribution records, they would have seen that four law firms for the Goodner plaintiffs' ranked among their biggest campaign donors.
Together, the firms of Keil & Goodson, The Roselius Law Firm, Kessler Topaz and Crowley Norman had donated a total of $185,500 to the campaigns of the current six justices, campaign-finance reports show.
The seventh high-court judge, Chief Justice Howard Brill, was appointed to the job last fall and reports no political contributions.
Furthermore, the justices would have seen that the law firm working for the Shelter Mutual Insurance side of the case, Munson Rowlette & Moore of Little Rock, contributed far less to any of their campaigns: a total of $1,600, according to campaign-finance records.
Three justices removed themselves from hearing the Supreme Court's Shelter appeal: Courtney Goodson, Josephine Hart and Robin Wynne. Their campaigns reported accepting a total $122,500 from the four class-action firms. Courtney Goodson's campaign reported the most ($86,500); Hart's ($18,000), Wynne's ($18,000).
The justices aren't required to give a reason for recusing, but Courtney Goodson has refrained from hearing any case involving her husband, as required by the state Code of Judicial Conduct regarding judges' close family members.
Three other justices -- Baker, Danielson and Rhonda Wood -- decided to hear the Shelter v. Goodner appeal. Their campaigns had accepted a total of $63,000 in contributions from Keil & Goodson, The Roselius Law Firm, Kessler Topaz and Crowley Norman, campaign-finance records show.
The three justices' individual campaign contributions from the four law firms were: Baker ($44,000), Wood ($10,000) and Danielson ($9,000).
Baker, Danielson and three special justices appointed by the governor ruled on Dec. 10 that labor depreciation in "actual cash value" claims is illegal in Arkansas -- a win for the class-action law firms.
Wood and Brill dissented.
Judge should disclose
Every state writes its own code of judicial conduct, often basing the document in large part on the American Bar Association's model code for state judges.
Arkansas' provision that instructs judges to purposely not know who contributes to their campaigns is not standard, experts say.
"It's unusual," said Corriher of the Center for American Progress. "The American Bar Association's model code does not include that provision."
Like many other states, Arkansas' code leaves most decisions on recusing up to the judges.
"The fact that a lawyer in a proceeding, or a litigant, contributed to the judge's campaign, or publicly supported the judge in his or her election does not of itself disqualify the judge," the Arkansas code says.
"However, the size of contributions ... and other factors known to the judge may raise questions as to the judge's impartiality," it says.
Another section of Arkansas' judicial ethics code seems to conflict with the judges not knowing who contributes to their campaigns:
"A judge should disclose on the record information that the judge believes the parties or their lawyers might reasonably consider relevant to a possible motion for disqualification, even if the judge believes there is no basis for disqualification."
Retired Justice Donald Corbin, who tried not to learn about his campaign contributions, said he nevertheless finds the money flowing into Arkansas high-court races in recent years "alarming."
The donation to his 2006 campaign from two of the class-action law firms was $3,000, the smallest of any justice past or present whose campaigns attracted the law firms' money.
"Recusal is a very personal matter," Corbin said in an interview and emails.
CASH AND THE COURT
Six law firms' total contributions to Arkansas Supreme Court races by candidate, 2004-14
Justice Courtney Goodson: $142,500 | [DETAILS]
Court of Appeals Judge Raymond Abramson: $82,050 | [DETAILS]
Justice Karen Baker: $66,000 | [DETAILS]
Former Justice Jim Gunter: $27,619 | [DETAILS]
Circuit Judge Tim Fox: $26,000 | [DETAILS]
Justice Robin Wynne: $25,000 | [DETAILS]
Justice Paul Danielson: $23,500 | [DETAILS]
Justice Josephine Hart: $22,000 | [DETAILS]
Former Chief Justice Jim Hannah: $17,250 | [DETAILS]
Justice Rhonda Wood: $17,000 | [DETAILS]
Former Justice Donald Corbin: $3,000 | [DETAILS]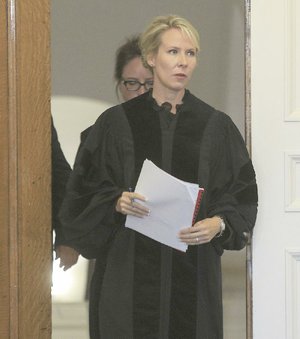 Photo by Staton Breidenthal
Arkansas Supreme Court Justices Courtney Goodson (front) and Rhonda Wood enter the state Capitol's Old Supreme Court Chamber in September before the court's first oral argument of the 2015 term.
Asked whether he would have recused from a Supreme Court case if he knew the lawyers on one side had contributed $15,000, $25,000 or more to his campaign, Corbin said: "I would recuse if someone gave me that kind of money, for the appearance of impropriety. I'm old school."
TUESDAY: The American Bar Association model offers alternatives to Arkansas' conflicting judicial ethics and campaign finance rules.
SundayMonday on 01/25/2016