Gov. Asa Hutchinson joined a long list of predecessors as he oversaw Arkansas' first execution in more than 11 years.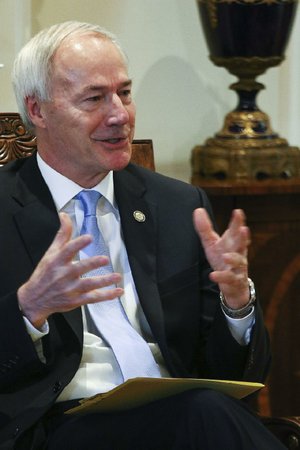 Photo by Mitchell PE Masilun
Earlier this month, in a meeting with journalists, Gov. Asa Hutchinson called executions "the heaviest and most serious responsibility" of his office. While he has not granted clemency to any of the men facing execution this week, a spokesman said he was reviewing all of the clemency applications he has received.
The Republican also has entered into another group with his peers: those who have not exercised their power to grant clemency to death-row inmates.
Since Gov. Winthrop Rockefeller famously departed the Governor's Mansion after commuting all death sentences to life terms in 1970, only one other Arkansas governor, Mike Huckabee, has elected to use his power to spare a prisoner's life.
The state, meanwhile, has executed 28 men under four governors. Ledell Lee, the first man to be executed under Hutchinson's administration, was killed by lethal injection Thursday.
Halfway through the eight-man execution schedule he set in February, Hutchinson has declined to offer clemency to any of the condemned -- though the first pair set to die had not sought such a reprieve.
Three of the four planned executions were nonetheless stayed by courts.
Hutchinson still faces four more decisions this week, including the case of Jason McGehee, who was recommended for clemency by a 6-1 vote of the state Parole Board.
Even if the governor does not act -- or declines McGehee's request -- the execution is still under stay by a federal judge, who said McGehee deserves the full review period written into law.
McGehee was 20 when he led a group of teens who beat and strangled 15-year-old John Melbourne Jr. in 1996, though McGehee was not accused of delivering the fatal blow. His youth was cited as a factor in his clemency application.
Hutchinson has met with John Jr.'s father, John Melbourne Sr., at the family's request. The meeting is a scarce piece of insight Hutchinson has offered about his deliberations on the clemency applications before him.
In a sit-down with state reporters earlier this month, Hutchinson called his overall role in administering the death penalty "the heaviest and most serious responsibility" of his office.
A spokesman said Saturday that Hutchinson is still reviewing all of the clemency applications before him.
The governor of Arkansas has the sole authority to grant clemency to a death-row prisoner, though he will receive a nonbinding recommendation from the Parole Board after scheduling an execution.
A similar process exists in nine states, according to the nonprofit Death Penalty Information Center, and 21 other states with capital punishment leave the final decision on reprieve with the governor.
In the modern history of United States executions, which dates to 1976, 282 condemned have been granted clemency, according to the information center, including several cases in which governors commuted all death sentences as Rockefeller did.
There have been 1,449 executions nationally since 1976, meaning Arkansas' single case of death-row clemency is more than five times below the rate for the country.
"You've got public opinion generally supportive, and many cases overwhelmingly supportive" of the death penalty in Arkansas, said Hal Bass, a political science professor at Ouachita Baptist University.
"And the other side of it is personal values that come with this awesome responsibility," Bass said.
For Arkansas Republicans, that is a question intertwined with the history of giants in the party.
When Rockefeller, the first Republican governor of the state since Reconstruction, cleared the death sentences for 15 men as he left office, he cited religious reasons. He had placed a moratorium on executions while he was in office.
"What earthly mortal has the omnipotence to say who among us shall live and who shall die? I do not," Rockefeller said in 1970. "Moreover, in that the law grants me authority to set aside the death penalty, I cannot and will not turn my back on lifelong Christian teachings and beliefs, merely to let history run out its course on a fallible and failing theory of punitive justice."
Huckabee, another Arkansas Republican who developed a national profile during two presidential runs, showed mercy to death row's Bobby Ray Fretwell in 1999, after a juror from Fretwell's trial stepped forward to say he felt pressured into voting for a death sentence.
Huckabee, a former Baptist preacher, defended his decision saying, "I had rather face the anger of the people than the wrath of God."
Huckabee otherwise oversaw 16 executions.
Arkansas' long line of Democratic governors also have faced the question of whether to uphold sentences or grant life.
"It keeps you up at night," said former Gov. Mike Beebe, a Democrat who preceded Hutchinson.
Beebe never granted death-row clemency, though each of the eight executions he set ultimately was halted by courts. He said Saturday that the two things he weighed the most in considering each application was whether the prisoner was guilty and whether he received a fair trial.
Hutchinson has said he questions neither the guilt of the men he scheduled to die nor the fairness of their trials.
After Rockefeller cleared death row, the next several governors probably faced relief from the issue because of the lull in executions, Bass the political science professor, said.
The issue resurfaced under Gov. Bill Clinton, who oversaw four executions and never granted a death-row clemency.
In January 1992, during his successful presidential run, Clinton returned to Arkansas to oversee the execution of Ricky Ray Rector, who killed a police officer before shooting himself, causing permanent brain damage.
Rector's lawyers had argued that the prisoner was unfit to be executed because of his diminished mental state. After being given his last meal, Rector gained additional notoriety for leaving his pie untouched, telling his guards he was saving it for later.
"There was some speculation at the time that it was part of [Clinton's] desire to present himself as a new Democrat, and tough on crime," Bass said.
Clinton's successor to the Governor's Mansion, Democrat Jim Guy Tucker, said by phone Saturday that by the time he began his administration he had become comfortable with the use of the death penalty after being involved with rewriting the law to ensure the punishment was more narrowly applied.
"It was a hard decision for me even if I thought the guilt was absolutely clear," Tucker said. "You still have the question of whether the death penalty was appropriate [to the case]."
Tucker oversaw seven executions while in office -- including a triple execution -- and never granted clemency. Asked if public attitude toward the death penalty played a role in his decision, Tucker said it did not.
Janine Parry, a political scientist at the University of Arkansas, Fayetteville said over the phone early Saturday that most voters' opinions of a governor are swayed more by "bread and butter issues" such as jobs and education, than any decision to grant clemency. But, a few hours later, Parry followed up in an email saying that questions of clemency could be a source of "intraparty pressure" driving governors to the left or right.
During the session with reporters at the mansion earlier this month, Hutchinson was asked about the discrepancy between his actions and Rockefeller's.
Hutchinson said that while he admired his predecessor for standing by his convictions, his beliefs have led him to a different conclusion.
"I have two convictions: one that I think the death penalty is an appropriate punishment in the most serious and heinous crimes in our society. Secondly, I have a duty as governor, a sworn duty, to faithfully execute the laws of our state," Hutchinson said.
The first-term governor also noted another difference in the circumstances.
"He did this as he was leaving office, if I remember correctly," Hutchinson said.
A Section on 04/23/2017