GRADY -- Arkansas executed Kenneth Williams on Thursday, ending an eight-day stretch in which the state administered lethal drugs to four convicted murderers in its fastest pace of executions in nearly 57 years.
Williams, 38, was pronounced dead at 11:05 p.m., 13 minutes after a sedative, the first of three drugs in the state's lethal-injection process, was administered.
Three minutes after his execution began, at 10:55 p.m., Williams' body lurched 15 times over a period of 10-15 seconds as he was "coughing, convulsing, lurching, jerking with sound even with the [execution chamber] microphone turned off," a media witness said.
Williams then lurched five more times at a slower rate, said witness Kelly Kissel, state news editor for The Associated Press. Williams, who was breathing through his nose before the movement, began breathing through his mouth after the 20th lurch, Kissel said. He described the breathing as "a clear attempt to draw oxygen" and said Williams attempted to draw breath until 10:59 p.m.
Associated Press timeline of Kenneth Williams execution
Arkansas Department of Correction spokesman Solomon Graves said he was informed Williams "did shake for approximately 10 seconds" at 10:55 p.m. Graves said a check to see whether Williams was conscious had not been conducted, meaning the second and third drugs, which can cause severe pain when administered to someone who is awake, had not been injected.
Kissel said the execution-room attendant checked Williams' consciousness at 10:57 p.m. by checking his eyes. The attendant touched Williams' chest at 10:58 p.m., and the inmate let out an audible moan at 10:59, he said.
Gov. Asa Hutchinson does not believe Williams' execution needs a formal review, said his spokesman J.R. Davis, who called the shake an "involuntary muscular reaction." All four executions conducted over the past eight days were "flawless," Davis said.
Prison warden William Straughn and Board of Correction Chairman Benny Magness declined to comment.
A jury recommended death for Williams in August 2000 for killing 57-year-old Cecil Boren. Boren died at his Grady home, near the Cummins prison unit from which Williams escaped days into serving a life sentence for a previous murder conviction. Lincoln County Circuit Judge Fred Davis III presided over the trial and issued the sentence.
"I am not the same person I was," Williams said while strapped to the gurney before his execution began. "I have been transformed. Some things can't be undone. I seek forgiveness. The next words will be spoken in my native language."
Williams then spoke unintelligible words that Graves said "would commonly be described as speaking in tongues." Graves said earlier that Williams, who long said he turned religious while on death row, is Protestant. Williams' statement tailed off as the drugs were administered, Kissel said.
"Any amount of movement [Williams] had was far less than any of his victims," said Boren's daughter Jodie Efrid, one of the family members to witness the execution, adding that there was "no change in his facial expression" that indicated pain.
The U.S. Supreme Court announced shortly before 10:15 p.m. that it had denied Williams' final three appeals for mercy, which focused on whether the judicial system properly considered whether he is intellectually disabled now or was at the time of his trial and earlier post-conviction appeals.
"The long path of justice ended tonight and Arkansans can reflect on the last two weeks with confidence that our system of laws in this state has worked," Hutchinson said in a statement.
Hours before the scheduled lethal injection, Hutchinson declined to spare Williams' life when asked to do so by Kayla Greenwood, whose father, Michael Greenwood, died in a crash with Williams during a high-speed chase after his prison escape.
Boren's two daughters were among family members who witnessed Williams' execution through a window with a one-way view into the execution room. His widow, Genie Boren, said Wednesday that she thought the death penalty for Williams was just because a jury issued the sentence, and that she hoped it would bring her family closure.
Williams became the fourth inmate executed over an eight-day period beginning with Ledell Lee's lethal injection April 20, the first time the state executed a prisoner in more than a decade. Jack Jones Jr. and Marcel Williams were executed Monday in the nation's first double execution since 2000.
Hutchinson initially scheduled eight inmates for execution over an 11-day period, but state and federal judges granted more time to four of the men. Courtroom volleys over the past month aired the inmates' requests for mercy that cited innocence, traumatic upbringings and mental and physical health ailments.
The weekslong contention also brought into question the three drugs Arkansas uses for execution -- the sedative midazolam, a paralytic and a lethal dose of potassium chloride -- as the prisoners' attorneys argued the sequence risked inflicting significant pain on the condemned.
Drug companies said the state used deceit to acquire the midazolam and knowingly flouted nationwide company controls designed to keep medicine from executioners' grasp.
Hutchinson's initial schedule, meant to exhaust the state's supply of midazolam before it expires Sunday, would have been an unprecedented pace of executions since the U.S. Supreme Court reinstated the death penalty more than 40 years ago.
International media descended upon Arkansas in the run-up to the first scheduled execution April 17. Actor Johnny Depp, prominent death-penalty opponent Sister Helen Prejean and former Arkansas death-row inmate Damien Echols were among those who criticized the plan. A USA Today headline this week called Arkansas' series of lethal injections a "parade of executions."
Kenneth William's death marked the first time Arkansas executed four inmates over an eight-day period since May 1960, when four men were electrocuted after being convicted in the murder of 76-year-old M.R. Hamm near Texarkana.
Roger Boone, James Moore, Willie Byrd and James Boyd were executed two per day on consecutive Fridays after convictions for the 1956 killing of Hamm, a retired farmer, in a robbery that netted them about $10 -- or about $90 today -- according to archived Arkansas Gazette reports.
The state has now executed 30 inmates by lethal injection at the 115-year-old Cummins Unit's execution chamber since 1978. Before then, the state executed inmates using an electric chair, which is now housed at the Old State House Museum in Little Rock.
CONVICTED IN 3 SLAYINGS
Kenneth Williams on Thursday declined a special last meal and instead requested Communion, which consisted of a wafer and juice administered by his Protestant spiritual adviser between 3 and 4 p.m., Graves said.
Williams also received the standard meal given to all inmates Thursday: two pieces of fried chicken, barbecue beans, sweet rice, stewed seasoned tomatoes, whole kernel corn, four slices of bread, two cinnamon rolls and two cookies, Graves said.
All four executed inmates were served fried chicken as part of their last meals. Jones did not eat the chicken on his tray, according to a Department of Correction log of his execution-day activities.
"Whether or not that is customary or some type of tradition, I cannot speak to," Graves said. "It may just be inmates like fried chicken."
Anticipating their ride to the execution chamber Monday evening, three selected media witnesses congregated around a circular table away from other reporters to walk through what they were about to see.
Williams' execution was the 10th that Kissel witnessed. The two other selected reporters, Knowles Adkisson of the Pine Bluff Commercial and Donna Terrell of Fox16, nodded while Kissel spoke and jotted down notes as he led them through the knowns and unknowns of the procedure before they witnessed their first execution.
Terrell, referring to Williams' movements after the injection began, said it appeared that the execution "wasn't going smoothly."
"That was not at all what I expected," she said.
Adkisson said Williams' face appeared "serene" and that "all the motion was coming from his chest and from his mouth."
Williams, of Pine Bluff, was convicted of three murders and accepted responsibility for the death of a fourth man. He was 21 when a jury recommended that he die for killing Boren.
Less than three weeks into a life sentence handed down in the 1999 slaying of Dominique Hurd, a University of Arkansas at Pine Bluff cheerleader, Williams broke out of prison. He hid in a truck carrying hog slop and later went to Boren's home, less than 5 miles from the prison.
Williams shot Boren seven times and stole his Ford F-150. He spent a day on the lam before he was captured in Missouri after crashing Boren's truck into a delivery truck driven by Greenwood, 24, who died from the crash.
In 2005, Williams confessed in a letter to the Pine Bluff Commercial to killing 36-year-old Jerrell Jenkins on the same night he killed Hurd. The Jenkins case was unsolved, and Williams was ultimately convicted.
Williams told the Pine Bluff newspaper he wanted to confess his sins after converting to Christianity.
He spent his last years on death row as a prolific writer whose books are used by a Minneapolis homeless shelter to encourage at-risk youth to avoid criminal lives, according to Kathy McGregor, who runs the Northwest Arkansas-based Prison Story Project and met Williams last year when working with some of the state's death-row inmates.
"I humbly extend my sincerest of apologies to the families I have senselessly wronged and deprived of their loved ones," Williams said in his final statement, directed to his victims' families. "I was more than wrong. The crimes I perpetrated against you all were senseless, extremely hurtful and inexcusable."
He signed the statement: "Minister Kenneth D. Williams, Arkansas death-row preacher."
'YOU SHOULD PAY'
At the prison gate, three anti-death penalty protesters -- including two from out-of-state who have been there for each execution -- were joined by Stacey Johnson's wife, Judy Robinson-Johnson, and stepdaughter, Latasha Logan.
Robinson-Johnson read aloud from her cellphone Hutchinson's statement issued in response to a plea from the Greenwood family for mercy on behalf of Williams.
Logan shook her head back and forth as she listened to the words.
"He doesn't care," Robinson-Johnson said, speaking of Hutchinson. "He has no heart. Just that statement. It's a plain statement with no emotion or sympathy."
Both women said they would be at the gate until the bell tolled for Williams, even if it took several hours.
"We're here for support of all the other inmates," Robinson-Johnson said. "This is solidarity for them."
On the other side of the issue, J.C. Kirkland of Sherrill loudly proclaimed his support of the death penalty for Williams.
The sole pro-death penalty protester, Kirkland said he was there in support of his friend. When Williams escaped prison, he threatened by phone to kill that friend's grandchildren, he said.
"He doesn't know I'm here," Kirkland said, speaking of his friend. "I've got a jacket in my truck and water in my truck. I'm here to stay until it's done."
Kirkland made no bones about his belief in the death penalty. His only complaint is that it's not carried out quick enough.
"You should pay," he boomed. "You should pay."
About 50 protesters outside the Governor's Mansion on Thursday night walked in circles, sang and prayed, and chatted as they awaited court rulings challenging Williams' execution.
Collin Eggers of Little Rock, a dental assistant, acknowledged her protest might not make a difference right now.
"But I think in the long run, the more people who gather and the more people who oppose the death penalty, the more steps we are making toward change. ... We don't want to give up hope that there is a future where the death penalty might not exist and that there will be a different way of serving justice."
FOUR OTHERS SPARED
At least half of the inmates Hutchinson assigned death dates for this month received court orders preventing their lethal injection, at least temporarily.
Don Davis and Bruce Ward received temporary reprieves on grounds that a pending U.S. Supreme Court case about whether indigent defenders deserve access to an independent medical expert could apply to their convictions.
Ward additionally received a stay of execution from the state Supreme Court on grounds that he is incompetent to understand his punishment, a ruling Rutledge's office has not appealed to a higher court.
Johnson, who maintains his innocence, received time from the Arkansas Supreme Court to try to persuade a Sevier County Circuit Court judge to order new DNA testing of long-held evidence.
Jason McGehee, originally scheduled to die last night before the state Board of Parole recommended a more lenient sentence, could not be executed this month without the state running afoul of a required public comment period for clemency proceedings.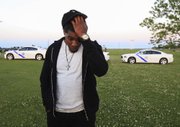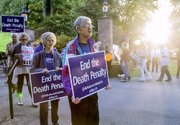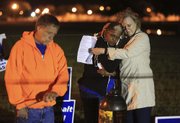 Rutledge's office did not appeal the McGehee decision. Hutchinson has not yet announced whether he will change the inmate's sentence to life in prison.
Both Davis and Johnson were moved from the prison system's Varner Supermax unit to Cummins in anticipation of their execution. Davis was fed a last meal -- which included fried chicken -- but the U.S. Supreme Court in a final-hour ruling upheld the state Supreme Court order blocking his execution.
Members of Lee's, Jones' and Marcel Williams' family have received their bodies, Graves said. The Department of Correction turns over the bodies free of charge, but the families assume costs for interment.
Information for this article was contributed by Hunter Field, Jeannie Roberts and Mike Wickline of the Arkansas Democrat-Gazette.
A Section on 04/28/2017