4:56 p.m.
Rising waters from the Arkansas River topped two flood levees Tuesday morning, including one protecting an area with nearly 300 people in Perry County, officials said.
The Arkansas Department of Emergency Management said burgeoning flood water recently overcame the McLean Levee north of Paris in Logan County and the Perry County Levee District No. 1 near Toad Suck.
Many people living in the area protected by the McLean Levee had already evacuated following a voluntary evacuation order, said Arkansas Department of Emergency management spokeswoman Barbara Hager.
State emergency officials weren't aware of any immediate injuries in Logan County. The impact to the levee near Toad Suck wasn't immediately known, though state and local agencies said the water could spill onto Arkansas 60.
The Perry County judge's office said the water was higher than the levee about three miles south of Toad Suck.
Bill Finley, chief deputy with the sheriff's office, said it flooded fields, and officials were watching the water in case it reaches the highway.
He said the flooding happened faster than officials anticipated.
The Army Corps of Engineers' levee database shows the structure protects nearly 300 people and 121 buildings, with property estimated at $21.4 million.
In Logan County, the breached levee protects roughly 11 buildings and 23 people living in mostly farmland, according to the database.
Hager said other levees in the area were holding back the river as a surge of water continued to move downstream. Forecasters expect record-setting floods throughout the coming days.
"This is historic flooding, so these levees have never been subjected to this before," Hager said.
Officials expect historic-level cresting in many areas throughout the week.
Measurements in the Fort Smith area already show the flooding has set crest levels not seen in 75 years.
President Donald Trump said in a Tuesday afternoon tweet that he was aware of the flooding after speaking to Gov. Asa Hutchinson.
He said: "the Federal Government will do whatever is necessary to help out with what has turned out to be Record Flooding. Asa and local officials are doing a great job!"
State and local public safety agencies have urged people to heed evacuation orders and to follow their local emergency officials' instructions.
EARLIER:
OZARK — Weather officials are tracking thunderstorms and heavy rain expected to move into Arkansas later Tuesday, potentially affecting areas already facing historic river flooding.
Persistent rains in Oklahoma set the stage for flooding along the Arkansas River as a deluge of water pushes its way downstream. It's led to multiple street closures and the closure bridge crossings in the Fort Smith area, and the high water has already displaced more than a dozen people.
Officials predict storms will begin Tuesday night with up to four inches of rain possible in western Arkansas by Wednesday.
"If this doesn't amplify the flooding on the Arkansas River, it will at the very least prolong the flooding carrying significant impacts into the second week of June across the state along the Arkansas River," said Dennis Cavanaugh, warning coordination meteorologist at the weather service office in North Little Rock.
Along with heavy rain, the weather service noted chances of strong winds and a potential for tornadoes. Parts of north and Northwest Arkansas are under a slight risk for Tuesday, while an enhanced risk is set for much of western Arkansas on Wednesday.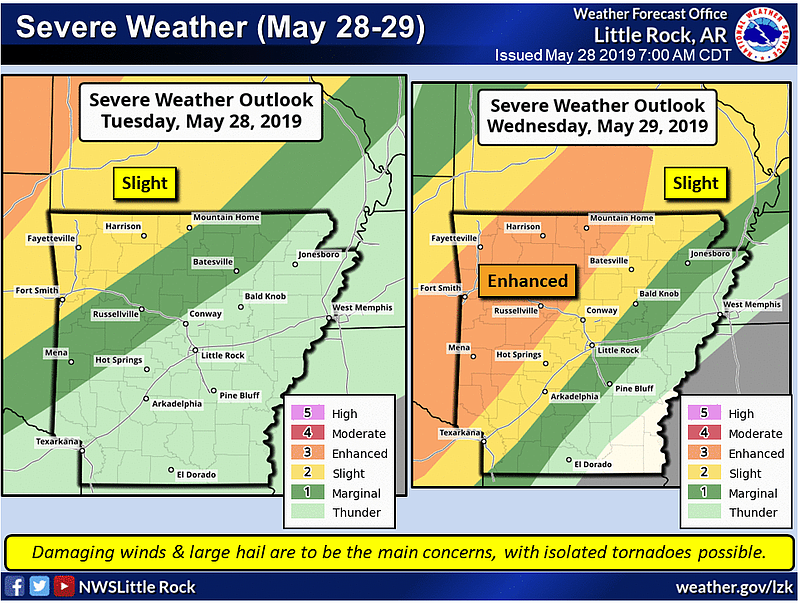 Measurements taken Monday afternoon in Van Buren showed the waters there reached 18 feet above flood levels, shattering a record set in 1945. Forecasters said they expect the water to rise slightly more as the week progresses.
Weather officials predict the record-setting trend will continue as the water moves downstream throughout the next two weeks. The American Red Cross said 18 people displaced by the floods stayed in its shelters on Sunday.
Gov. Asa Hutchinson ordered the Arkansas National Guard to the western part of the state. He also approved spending $100,000 to fund emergency efforts.
New National Weather Service estimates forecast significant flooding in every major community along the Arkansas, including in Little Rock where officials closed the Big Dam Bridge.
State officials for a time closed all but one bridge crossing the Arkansas River in the Fort Smith area, which snarled traffic as drivers were all diverted onto the Arkansas 59 bridge. The Interstate 540 and Midland Bridge bridges, which were closed beginning Monday night, reopened around midday Tuesday.
The Arkansas Department of Transportation said in a statement it found no problems with the spans.
Dozens of city streets have also been closed as water continued pooling up throughout Fort Smith. Some 560 people had reported power outages, according to utility provider Oklahoma Gas & Electric.
Communities along the river have been stacking and filling sandbags while making other preparations ahead of the high waters reaching them.
The Cass Jobs Corps Civilian Conservation Center was busy providing sandbags to Ozark residents and the Franklin County Street Department Tuesday morning, just a block away from a flooded street.
The Arkansas River rose up to Main and Bell streets in Ozark, and Sheriff Anthony Boen said the water is only getting higher.
"Yesterday we had several homes at risk of flooding, today it's local businesses," he said.
Even people whose homes or businesses weren't affected by the water are hurting, he said.
"We've got several roads shut down and people can't get to work or they're having to detour," Boen said. "Businesses are closing because people can't get to work."
The weather service said it expects the storms to taper off by Wednesday night.
Cavanaugh urged people to follow emergency instructions and not go through road closures.
"We want everyone to make it through this flood safely," he said.