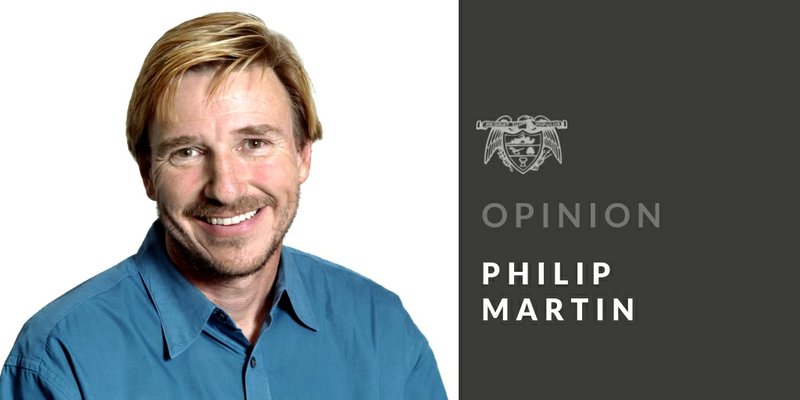 November is a favorite month. It's full of birthdays. It's normally the month we travel.
We've had Thanksgiving in Dublin and have spent several wedding anniversaries in France, including on Armistice Day. It's pleasant to walk ancient streets, dodging unfamiliar people, hearing a different kind of chatter, forgetting everyday routines.
Travel is the best kind of education. It forces us to acknowledge the narrowness of our usual experience, brings us face to face with others who have grown up in different circumstances and who harbor different perspectives on the world but retain an undeniable humanity. Travel humbles us and trains our empathy.
We don't check bags or lounge in hotel rooms. We get in the streets, boots on the ground, taking the most plebeian forms of public transportation. Europeans don't automatically take us as an American couple, at least not until we try to speak the local language. Once an American tourist in Paris asked me for directions in halting French. After I answered him he complimented my English.
And I told him his French was très bien.
We aren't going anywhere this year, and it's hard to say how long it will be before we go much of anywhere. There would be no point in traveling now. There are quarantines and lockdowns. Other people are potentially dangerous; we have become allergic to one another. Some of our best-traveled friends have let their passports lapse.
It is a First World problem.
Staying home is no terrible hardship, especially not in Arkansas. A 15-minute hike could take me downtown, to a mountain trailhead, to the far end of a driving range. How quickly we adapt to the new realities. We have a protocol for entertaining small groups of friends outside and enjoy take-out and long walks. Because there is still a lot to appreciate, we will have a small Thanksgiving.
You can be happy if you decide to be. There is a universe in your backyard.
I am optimistic about 2021. Those prone to ragging and sobbing will continue to find things to rage and sob about, but maybe next November will be better. A vaccine will help, but no Democrat is going to fix us; the best hope is a certain de-escalation of rhetoric and a renewed seriousness of purpose.
Many people have no reason to be excited about Joe Biden. It's apparent that some bills are coming due soon, and it won't be possible to kick them down the road another couple of decades. We baby boomers had our shot. What's left of history will judge us.
Biden, born in 1942, isn't technically a baby boomer, but part of the so-called Silent Generation, born during the Great Depression and World War II who came of age in the Civil Rights era--who became hippies, served in Vietnam and made up Richard Nixon's silent majority.
In Biden's case, he went to law school and received deferments and thought of himself as a Republican until Nixon's presidency put him off. He won a Senate seat at 29. He's seen tragedy in his life and has done a few undeniably stupid things in a long political career.
In normal times, we might want to hold out for something better. But as it is, most of us are glad to turn the page, to safely ignore the tantrums and the tweets. Bring back the gray, bland mediocrity of honest bureaucrats trying to do their best to mitigate the horrors of the on-rushing world.
We have had our spasm of petulance; we have shocked and frightened the world. We should be embarrassed, but should also recognize where and how we went wrong and vow to ourselves and allies that we will never again fall for the circus throb and carny bark of an anti-intellectual self-promoter who claims to be the only one who can save us. (Though we will be fooled again. We are too wishful and starry-eyed to resist magical solutions.) Bring back the necessary hypocrisies of the generally well-meaning and decent.
Bring back the serious people.
The late Professor Allan Bloom, with whom one can find much to disagree, once wrote that "a serious life means being fully aware of the alternatives, thinking about them with all the intensity one brings to bear on life-or-death questions in full recognition that every choice is a great risk with necessary consequences that are hard to bear."
Real choices are only available to those who face real questions. And the real questions aren't about brand-loyalty politics, but about how one chooses to conduct and furnish one's life. Making such choices forces us to genuinely think about the Big Things, like what sort of world we're leaving behind, what sort of people we want to be, and what sort of things we worry about.
A serious society would recognize lies for what they are, and understand that the manufacture of scandal is a lucrative business, that it is in the interest of some to convince the rest of us that the country is in a perpetual state of crisis.
Yet we remain wide-eyed and credulous whenever the spinner or alarmist happens to spew forth on our favorite cable network. We live in a world infested by prophets of certainty--men and women who will tell you they know for a fact that things are this way or that way and, given these circumstances, this is how we ought to behave.
A serious society would understand that there are certain epistemic limits. A serious society would understand and accept there are things that are unknowable and that certainty is a refuge for those who, for whatever reason, cannot accept the mystery that lingers in the world. If all you want are answers, there are plenty of people who'll sell them to you. Buyer beware.
It's November, the dark is catching up to the light, shadows grow long, winter is coming. But if we make it through December, the poet tells us, we might find ourselves in a warmer land come summertime.
--–––––v–––––--
Philip Martin is a columnist and critic for the Arkansas Democrat-Gazette. Email him at pmartin@adgnewsroom.com and read his blog at blooddirtandangels.com.
Sponsor Content