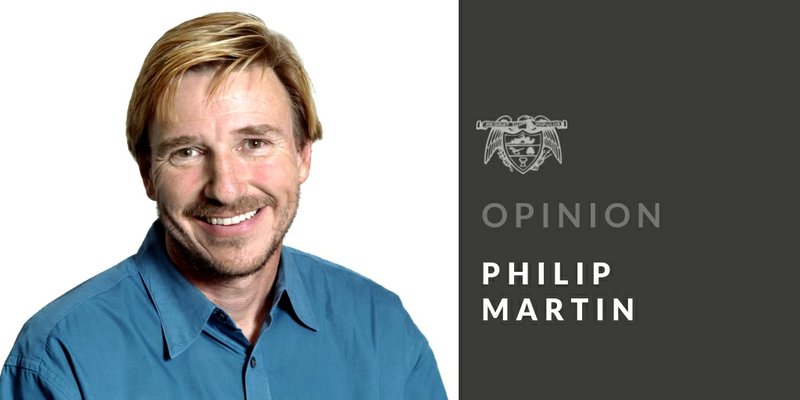 "All of humanity's problems stem from man's inability to sit quietly in a room alone."
-- French philosopher Blaise Pascal, 1654
There was a story Roger Ebert used to tell about John Candy.
In the early 1990s, Ebert was at a swanky New York hotel the night before he was to appear on some television show or other. He drifted through the lobby and saw Candy sitting at the bar, alone, smoking and drinking. Ebert struck up a conversation with the actor.
"He was depressed," Ebert would later write, in a revised review of John Hughes' 1987 film "Planes, Trains and Automobiles," which stars Candy and Steve Martin. "People loved him, but he didn't seem to know that, or it wasn't enough. He was a sweet guy and nobody had a word to say against him, but he was down on himself. All he wanted to do was make people laugh, but sometimes he tried too hard, and he hated himself for doing that in some of his movies. I thought of Del."
That would be Del Griffith, the shower curtain ring salesman Candy plays in the movie. At first glance, Del is comic relief, meant to be a foil to Martin's Neal Page, a highly successful marketing executive who specializes in slow-burning frustration.
"Planes, Trains and Automobiles" is a buddy comedy, an uncomplicated but durable genre that almost always rises or falls based on the chemistry of actors involved. (1988's "Midnight Run"--with Robert De Niro and Charles Grodin--and Alfonso Cuaron's 2001 "Y Tu Mama Tambien" are very different films that nevertheless follow much the same template as "Planes, Trains and Automobiles.")
Del is needy, a clinger who attaches himself to Martin's anal-retentive Page, who completely lacks the common touch. Ebert thought that the genius of the film was in the casting, that Hughes understood Candy and Martin are in essence the characters they play in the film. Candy is the classic clown, always recalibrating himself in an attempt to please whatever audience he is playing to; Martin is an essentially private and cerebral person who doesn't feel compelled to perform when he's off the clock.
I never met Candy, who died young in 1994, but accept Ebert's testimony. Having met Steve Martin, I don't think he has any problem sitting quietly in a room by himself. Pascal would be proud of him.
Most of us relate more to Neal when we're watching "Planes, Trains and Automobiles" simply because he's the pulled-together one, the guy who only wants to get back to Chicago to see his family for Thanksgiving. Neal is the object of our aspiration--trim and silver, affluent and enviable. We're all the heroes of our own stories, and Neal is the audience surrogate for this epic. He's brave Odysseus, trying to get home.
On the other hand, we recognize Del as a loser from the beginning. He's a sloppy glad-hander, an oversized bumbling guy in mismatched clothes with a goofy mustache and a repertoire of groany jokes. He's the sort of person you hope isn't seated next to you on a plane.
Or maybe he's the sort of person I wouldn't want to be seated next to on a plane. Maybe a lot of people would welcome Del and his dad jokes, his sincere interest in whatever human being fate has put in his path. Del is, as we learn over the course of the movie, completely authentic, self-aware enough to understand that he cares too much about what others think of him. When he is rebuffed, his feelings are hurt. But he continues to try to make things better. He's not a bad guy.
It's not giving too much away--does anyone not know how this movie ends?--to say that the movie is a series of breakups and reconciliations between Neal and Del. Having survived the tortuous journey back to Chicago, Neal intuits that Del has no home or people of his own, so he brings him back to his classic colonial house in the suburbs to share Thanksgiving with his family.
"Planes, Trains and Automobiles" is about the ultimate triumph of empathy. It's about how we might recognize the essential humanity of people who are very different from ourselves. It's the best movie any of the principals ever made, and one of the few holiday classics that bears repeated viewing.
But it's also sad.
That's because Del's problems aren't solved by the film's denouement; he only wins a temporary respite. Neal and his family aren't going to become his family. They're going to feed him and make him feel welcome, but there will come a time when he has to go. Even if he maintains a relationship with Neal and his family, he'll eventually have to go back on the road to resume his itinerant traveling-salesman existence. He will no doubt attach himself to more Neals down the road, but may not ever again experience such extravagant kindness.
Wait, you say, Del is a fictional character, not a real guy. John Hughes made him up to tell a heart-warming story.
And I could go along with that, but for Roger Ebert's experience with John Candy. And experience with all the other Dels I have encountered.
I can sit in a room alone, and sometimes want to, but don't have to. I have my own family, a few friends, people to call or text or Zoom. In this time of tightened social circles, I'm not missing much. Having a subdued Thanksgiving is appealing. I am more than willing to stay hunkered down. There are rumors of an armistice to come; no one wants to be one of the last casualties.
On the other hand, there are lonely people out there, and this is a pitiless time. It's hard to tell who they are, as they might present as princes or divas, as smiling shiny happy people buffed and pretty.
I think of John Candy, sitting alone in a hotel bar, at the height of his fame.
--–––––v–––––--
Philip Martin is a columnist and critic for the Arkansas Democrat-Gazette. Email him at pmartin@adgnewsroom.com and read his blog at blooddirtandangels.com.
Sponsor Content