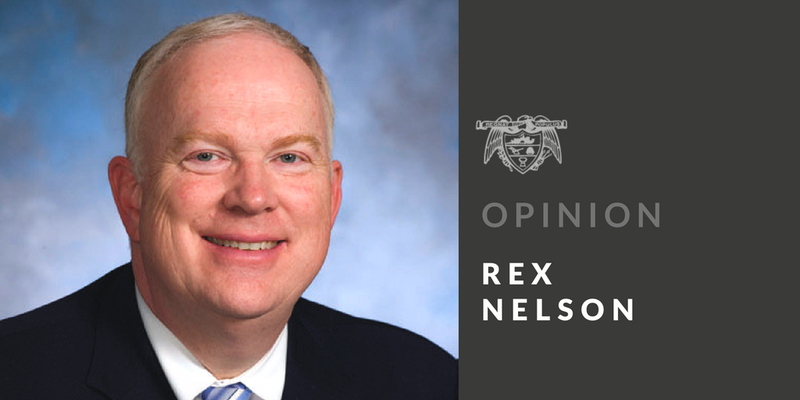 Today is my 31st wedding anniversary, and it has me thinking about traveling Arkansas. My wife is a south Texas native. We met when we were living in Washington, D.C., in the 1980s. We moved to Little Rock following our wedding in Corpus Christi, Texas, and a honeymoon to New Orleans.
Having grown up closer to Mexico than Arkansas, Melissa knew nothing about this state. As a proud native, I saw to it that weekends in the years before we had children were spent traveling across Arkansas. More than three decades later, I still delight in learning things I never knew about a place that once called itself the Wonder State.
During the pandemic--with most events canceled--I've heard from Arkansans who have been taking day trips to see their state. Traditional tourist towns such as Hot Springs and Eureka Springs remain favorite places to visit, and both cities have experienced a downtown renaissance in recent years with new restaurants and shops. Summer was busy on the U.S. Army Corps of Engineers impoundments across the state.
In urban areas of northwest Arkansas and central Arkansas, museums are welcoming guests again in a socially distanced manner. There's Crystal Bridges Museum of American Art and The Momentary at Bentonville. Little Rock offers National Park Service facilities (Little Rock Central High School National Historic Site), state museums (Historic Arkansas Museum, Old State House Museum, Mosaic Templars Cultural Center) and local museums (Museum of Discovery, MacArthur Museum of Arkansas Military History, Esse Purse Museum).
But other places are also worth a day trip. With temperatures cooling and leaves changing color, there's no better time to travel Arkansas. Here are 10 suggestions:
• Downtown Fort Smith: The old frontier outpost sometimes gets forgotten even though it's our state's second-largest city. For those who love history, Fort Smith is hard to beat. You can park in one spot and visit the Fort Smith National Historic Site and the Fort Smith Museum of History. Walk to one of the restaurants that dot Garrison Avenue, get a carry-out order, and take it to the banks of the Arkansas River as you read interpretive signage about the Trail of Tears.
• The wine country around Altus: Arkansas-based wineries have been hit hard by the pandemic and will welcome you with open arms. Stock up on wine at several wineries and then enjoy a drive through the vineyards. Winemaking in Arkansas dates back to the 1870s when Catholics from Germany and Switzerland came to the area after the Little Rock & Fort Smith Railroad Co. advertised in Europe for workers.
• Historic Washington State Park: I think of Washington as our state's version of Colonial Williamsburg with its restored homes and buildings. Washington was established along the Southwest Trail and became the county seat of Hempstead County in 1824. Important visitors before Arkansas became a state in 1836 included Davy Crockett, Sam Houston and Stephen F. Austin. Washington briefly served as the Confederate state capital during the Civil War. Lunch is served daily at Williams Tavern and you can stay overnight in a former jail that was converted into a bed-and-breakfast inn.
• Mountain View and the nearby Ozark Folk Center: This city is a national treasure, and the state's Ozark Folk Center has gained a nationwide reputation for preserving the culture of the upland South. Mountain View is best known for music, but there are also good places to dine and shop without the crowds of larger cities.
• Scott to Stuttgart: I consider this my Arkansas agricultural tour, and the harvest season is a perfect time to take it. Start at the Plantation Agriculture Museum at Scott, visit Toltec Mounds to learn about some of the state's earliest residents, and then spend time at the Museum of the Grand Prairie at Stuttgart to learn about farming and hunting in the area that considers itself the rice and duck hunting capital of America.
• Smackover to El Dorado: This is my Arkansas oil and gas tour. Start at the Arkansas Museum of Natural Resources on Arkansas 7 near Smackover and then move on to charming downtown El Dorado to grab lunch and visit outdoor exhibits that tell you even more about the oil boom of the 1920s.
• Helena: Just as the Ozark Folk Center at Mountain View interprets life in the upland South, the Delta Cultural Center interprets the history of the lowlands of the Arkansas Delta. The Helena Tavern serves lunch next door to the Delta Cultural Center. Civil War buffs also will find plenty to like in this historic port city.
• Dyess and Wilson: Two jewels of the Delta are within a few miles of each other in northeast Arkansas. Arkansas State University has not only restored the Johnny Cash boyhood home but has also done a marvelous job explaining the role of Great Depression-era federal resettlement colonies such as Dyess. Meanwhile, wealthy businessman Gaylon Lawrence Jr. has opened his checkbook to return the former company town of Wilson to its past splendor. Leave time to visit the Hampson Archeological Museum on the square and have a meal at the Wilson Cafe.
• Piggott: This is a hidden find in the northeast corner of the state. Stop at the Hemingway-Pfeiffer Museum & Educational Center and the Matilda & Karl Pfeiffer Museum. There's a bed-and-breakfast inn and places to eat on the town square.
• Murfreesboro: Search for diamonds on a cool fall day at the Crater of Diamonds State Park and then enjoy one of the restaurants along with the shops downtown.
--–––––v–––––--
Senior Editor Rex Nelson's column appears regularly in the Arkansas Democrat-Gazette. He's also the author of the Southern Fried blog at rexnelsonsouthernfried.com.
Sponsor Content